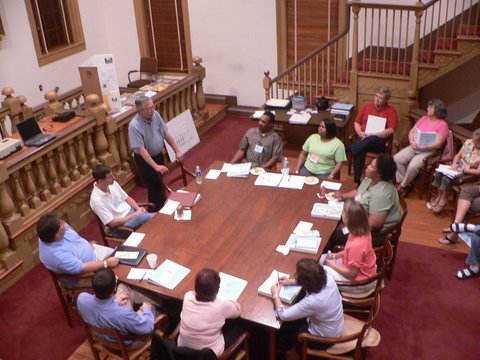 Would you like to learn more about the way Fluvanna County really works?
Do you want to know how you can do more to serve your community?
Have you thought about volunteering, but been afraid that you just don't have the sort of training and experience that are needed?

If the answer to any (or all) of these questions is "yes," then the Fluvanna Leadership Development Program, with its focus on training citizens to participate in county affairs, was created specifically for you.The classes are designed to educate you on county governance and to prepare you to assume a larger, more effective role in your community, at meetings, and on the various boards and commissions.

The program consists of approximately 15 classes followed by a graduation ceremony and banquet. Starting in September and ending in March, the class meets from 6:30 to 9:00PM on alternate Thursdays, with adjustments for Thanksgiving and Christmas. Topics for discussion include Fluvanna history and government, economic development, natural resources and rural preservation, human services, and the schools.

Enrollment is limited.
Applications are available from the Extension Office or may be downloaded from this Website. They must be returned together with the $35 registration fee (scholarships are available) by August 31st.

The Board of Supervisors support this program that also receives support from the Fluvanna Ruritan Club, the Chamber of Commerce, and the Cooperative Extension Office.